Set Overview - Distribution of short prints and inserts
The set contains 140 cards. 100 common cards, 10 transaction cards, 10 premium prospect cards, 20 rookies.
Inserted into the packs were several insert sets including: Gallery, Perennials, Heart & Soul, NHL Passport and New Regime. Additionally there were Lone Star Autographs and the New Regime set were also paralleled with an autographed version.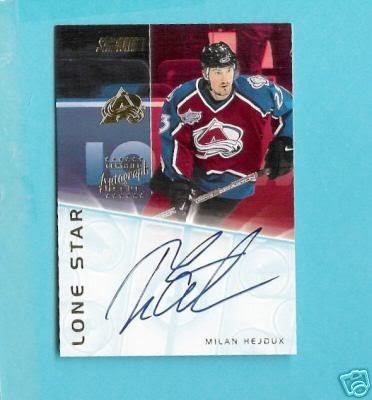 There were three serial numbered sets. There are two parallel versions of the main set. Master Photos and Award Winners were both numbered to 100. The Award winner cards were a promo redemption card. The third parallel set was a parallel of the Gallery insert set. The gold versions were serial numbered out of 50.
Card distribution from retail packs:
Transactions cards(1:4)
Premium Prospects(1:4)
Bonus Base Rookies(1:8)
Random Inserts:
Stadium Club Gallery(1:5;Seq #d Gold version 1:320)
Seq #d Master Photo Parallel(1:46)
NHL/NHLPA Award Promo Card(1:46)
NHL Passport(1:10)
Heart & Soul(1:20)
Perennials(1:7)
New Regime(1:11)
New Regime Autographs(1:84)
Lone Star Signatures(1:120)
Overall Autographs(1:49)
Card distribution from relic packs:
Transactions cards(1:4)
Premium Prospects(1:4)
Bonus Base Rookies(1:8)
Random Inserts:
Stadium Club Gallery(1:5;Seq #d Gold version 1:319)
Seq #d Master Photo Parallel(1:45)
NHL/NHLPA Award Promo Card(1:45)
NHL Passport(1:10)
Heart & Soul(1:20)
Perennials(1:7)
New Regime(1:11)
New Regime Autographs(1:84)
Group A: (1:140)
Group B: (1:210)
Lone Star Signatures(1:120)
Stadium Club Souvenirs
Group A: (1:20)
Group B: (1:83)
Overall Stadium Club Souvenirs (1:16)
Double Stadium Club Souvenirs (1:986)
Seq #d Triple Stadium Club Souvenirs (1: 3,616)
Overall Autographs/ Souvenirs (1:12)