It has been almost 4 years with no progress upticking from 139/140 to 140/140.
Selanne remains ever elusive. I have ebay alerts set up. I search foreign ebay sites. I use various search engines. I troll the trading sites and beckett.com. But I am yet to have success.
I have started trading at
Sports Card Forum
. The have a good trading system and excellent card organizer.
I landed an Allison Award winner that i needed and an extra Jeff Friesen.
Agreed to buy a Koivu Gallery gold from Parallel Dave.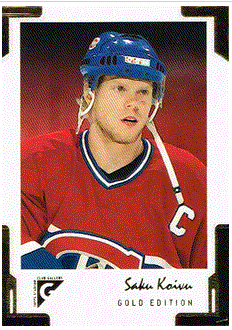 Working on a big deal ATM plus some ebay bids and maybe shop purchases. So all in all lots of action
Oct 11/2013
MP: 139/140
MP2: 29 /140
AW: 97/140
GG: 17/40